We're excited to announce these updates to AttractWell:
Email preview
Ever wanted to send a test email to yourself before sending to make sure it looks great? Now you can! Click the new Send Preview button at the bottom of a bulk email, or the "Send preview email to yourself" link if you're editing a campaign email.
Full image width
If you ever wanted an image to go full width in the available space but didn't know about the 100% width shortcut, now you don't have to know that trick! Just click on the image, then click on this Enlarge to Full Width button shown here. The image will get as wide as possible and will scale to fit the available space on whatever device it is being used on.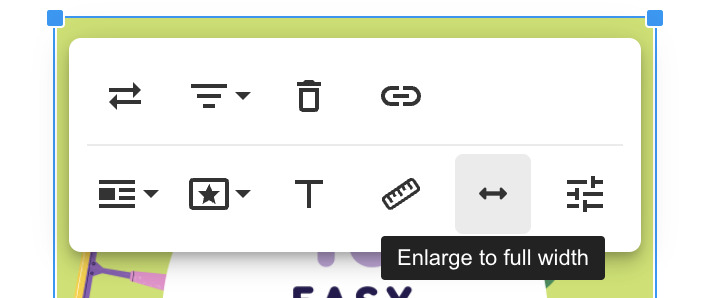 Page Builder Style Inspector
If you've been editing a page in the page builder and just aren't sure which element on the page has a style applied, use the style inspector to find out! First, click the Edit Element Styles toolbar button in the page editor (as shown below) and then hover over various page elements to see the styles. A black box will appear with the styles if the element has a style. This can help you track down the style on a particular page element.

As always, we hope these changes make your life easier and your business run a little bit more smoothly. If you have any questions or comments, please reach out to
support@AttractWell.com
.